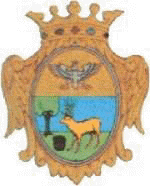 Mortara is located in the north-west of Italy.It's 50 Km
from Milan.It's a little town in the province of  Pavia, with
a population of 15.000
A HISTORICAL PROFILE
The earliest settlements appeared in the territori where Mortara now lies around 1600 B.C.The name of the town was originally"Mortier", bestowed upon the village by the Gauls or Celts who later conquered the Liguri tribe, who had been the first settlers. The Romans later ruled the area and changed the name of the town to the Latin "Mortaria". After the fall of the Roman Empire,the area fell into the hands of the Lombards. In 773 A.D., Charlemagne defeated the last Lombard king in a bloody battle near Mortara.According to legend, 70,000 people died in the battle. Another
story concerning to same battle tells how two Frankish knights named Amicus and Amelius were killed and buried in two separate churches. The next day they were both found in the same sepulcher, unitedin death as they had been in life. St. Albinus's Abbey, where they were buried, became a place of pilgrimage, beind located along the Francigena Way which was traveled by pilgrims on their way to Rome and the Holy Land. After the Hungarian invasions and the beginning of the feudal system, Mortara became a fortified village. In the wars between Federick Barbarossa and the Lombard League, Pavia and Milan also confronted each other, with Pavia  thaking the victory. The events affected Mortara became inextricably linked with the history of Pavia from that moment on. The area underwent Spanish
rule in the 16th century, and was annexed to the Savoyard State in the early 18th century. In the latter 19th century the areawas briefly part of the Napoleon's Kingdom of Italy. During the Italian Risorgimento, the citizens of Mortara could be found on the front lines. After the Unification of Italy, Mortara continued to  develop its trade and agriculture. Today it is the most important town in the greater part of the area surrounding Lomellina
A TOUR OF THE TOWN
ST. LAWRENCE'S BASILICA –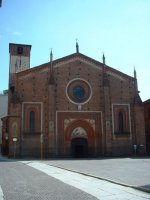 This Gothic basilica was built between 1375 and 1380 and remodeled in 1840 and 1916. The interior of the basilica is rich in important works of art, such as the sixsteen-century painting of "The Madonna with St. Rocco and St. Sebastian" by Gaudenzio Ferrari, "Our Lady of the Rosary" by Bernardino Lanìno, which is signed and dated 1578, five paintings by Procaccini, and a large painting by G.B. Crespi, signed and dated 1610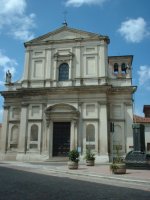 HOLY CROSS ABBEY – The abbey was founded in the year 1080 A.D. outside the town walls. It was rebuilt inside the walls in 1596. Extensive renovation was done on the building in the 1960's, modifying the façade and the interior and causing sixteenth-century architect Pellegrino Tibaldi's original layout to disappear.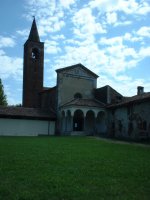 ST. ALBINUS'S ABBEY – The abbey stands on the outskirts of town along Route 494, on the spot where the bloody battle was fought in 773 A.D. between Charlemagne's troops and the Lombards. The architectural style of the abbey is a combination of Romanesque features (in the apse) and Renaissance elements (in the façade)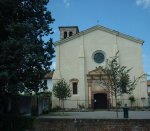 SANTA MARIA DEL CAMPO SANCTUARY – This simple but elegant church is located a little over a mile of Mortara, in a little villane. It has a single nave broken up by eight niches, four on each side. There are frescoes from different periods in the sanctuary, including the main altarpiece by Tommasino da Mortara.

TRA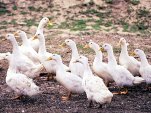 DITIONAL CUSINE
Mortara and the entire area surrounding Lomellina offer the gourmet visitor a vast selection of dishes. The specialty which has made the town famous in other parts of Italy is  definitely "goose salame". According to some, the origin of this delicacy is to be found centuries ago, as far back as
 the year 1000 A.D., when local housewives of Mortara were already producing it.  In several poems from the thirteenth century by Guido da Cozzo, we find mention of a certain inn called "Locanda del Becco" which served goose salame. According to others, it was not until 1730 that this specialty was first made by an innkeeper from Mortara who got the idea of trying to preserve goose meat in a goose skin,much like "zampone", a special kind of pork sausage packet into the skins of pigs' legs. There is also the theory that the development of goose salame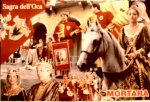 was facilitated in Mortara  by the presence of a small Jewish community
in the area. In 1913, goose salame won a gold medal at the International
Paris Exposition. The salame is sold already cooked, and is several at room
temperature with vegetables and other types of salame such as "salm d'la duja"which is packet in fact at cured in terracotta jars. Other delicious products are made from goose  in Mortara, including "ciccioli" (fried scraps of fat), little goose hams, smoket goose breasts, and goose patè of "foie gras". Rice is another of Mortara's favorite dishes, and it is prepared in many different ways. From the rice fields comes and additional delicacy: frogs. They were traditionally caught by the local women  and girls during the daytime in the months of April,September and October, and during the night in May and June.
THE GOOSE FESTIVAL It's also famous for "Festa dell'oca". This takes place on the last Sunday in September, every year.Here you can find many products made by local  craftsmen.