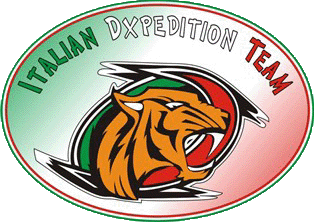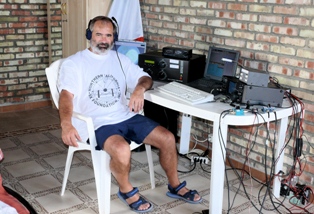 I1HJT Alfeo is 63 years old.
In the past Alfeo operated from:
5U(2002)-OD5RMK-OD5/I1HJT-II1H-
IU1HQ-6OØN-VU3CAH-ZPØR-ZP/I1HJT -
CW IH9P Multi Op.-J2ØRR-9G5TT-5V7TT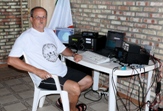 I2YSB Silvano is 60 years old.
In the past Silvano operated from:
T7ØA-5U(2001-2)-FO/I2YSB-TX4PG-ZK3SB -
5WØSB-6OØCW-6OØN-CW IH9P Multi Op.-
J2ØRR-II1C-IH9/I2YSB-9L1X-9G5TT-5V7TT-5M2TT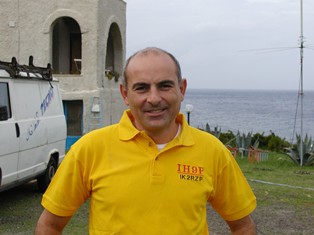 IK2RZP Gino is 54 years old.
In the past Gino operated from:
SSB-CW IH9P Multi Op Team-VP9/IK2RZP-IO2A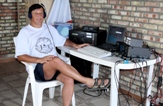 IK2CIO Vinicio is 50 years old.
In the past Vinicio operated from:
CO-3B8-W3-GM one of IU2HQ-IY2ARI- IO2A-
6OØN-SSB-CW IH9P Multi Op Team-J2ØRR-
9L1X-9G5TT-5V7TT-5M2TT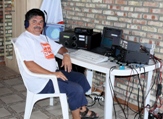 IK2CKR Angelo is 62 years old.
In the past Angelo operated from:
FW/IK2CKR-8Q7CK-TJ1PS-TJ1SR- 5L2EQ-
6OØN-J2ØRR-9L1X-9G5TT-5V7TT-5M2TT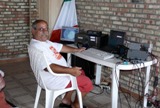 IK2DIA Marcello is 69 years old.
In the past Marcello operated from:
5U(2001-2)-TX4PG-ZK3SB-5WØSB-
6OØCW-6OØN-J2ØMM-9L1X-9G5TT-5V7TT-5M2TT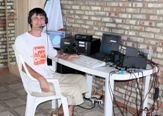 IK2HKT Stefano is 48 years old.
In the past Stefano operated from:
SSB CW IH9P Multi Op.Team-IO2A-
IR2K-IY2ARI-IU2HQ-J2ØMM-9L1X-9G5TT-5V7TT-5M2TT
Software developer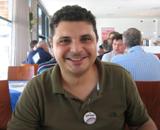 IH9GPI Giacomo is 41 years old.

Pilot station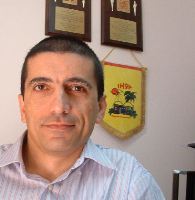 IK7JWY Art is 49 years old. In the past
Art operated from IH9P multi/operators
contest team (from 2002 to 2006), IH9M
single/operator WWDX CW 2007,
IU7HQ, IR4M (multi/operators contest
team 2008. He has been the pilot station
for 9L1X, E44M, 9G5TT, 5V7TT and 5M2TT dxpeditions.

For your questions , info, skeds, or to
report an opening during the DXpedition,
you can contact me via email or via the
official forum.


Official Forum
QSO Statistics

TU2T Dxpedition

Sponsors
A thanks also to:
JA5XWB
I2UUA -I2WOQ - IK2BLA - IK2UTT - IK2VIL - IK2UWR - IW2FND - G0JHC
IK8UHA - IK2DFZ - IK2HFE - IZ2HJK - I2JSB - IZ2DII - IZ2DHP - IZ2NBD
IZ2CPQ - IZ2GMT - IW5EIJ - IZ3DBA - I2PQW - IK2YXB - I1FQH - I1OJE
PF7M - W3EL - IK2EGL - IN3FHE - IK1YDB

---