9QØHQ
Last News
1) ONLY for QSOs in the period 10-25 March 2015 (this DXpedition), the manager for 9QØHQ is I2YSB
2) For info, questions or skeds on the 6m band, please contact ONLY the pilot station Sergio, IK0FTA
3) For info, questions or problems with the DXpedition LOG, please contact ONLY the pilot station Arturo, IK7JWY
4) For email messages to the pilot stations: www.qrz.com
5) Please DO NOT SEND Email messages about the DXpedition to the Team.
They will NOT be answered.
6) For updates about the DXpedition please visit the official forum:
http://www.hamradioweb.org/forums/showthread.php?t=25856
7) If a suitable internet connection will be available, the ONLINE REAL-TIME LOG will be at the address http://win.i2ysb.com/logonline/default.asp?ID_dxpedition=38
---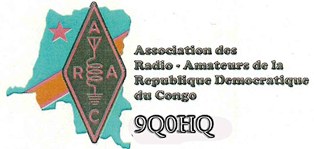 The Radioamateur Association of the Democratic Republic of Congo (ARAC) has invited the Italian DXpedition Team for a short stay in Kinshasa during March 2015.
Purpose of the activity will be theoretical and practical traning and refresher courses for the Amateurs of the DR of Congo. The call of the operation will be 9Q0HQ.


Free Donation E-mail Pay Pal : idt@i2ysb.com
Donations of $50 (USD) or more:
All donors contributing US$50 (USD) or more to the 9QØHQ 2015 DXpedition
will automatically receive the QSL for all QSOs, free of charge,
plus the DVD of the DXpedition.
---