9Q0HQ … Another African Adventure
This is the story of yet another adventure of the Italian Dxpedition Team in the African continent.
By now, we can confidently state that in the course of many Dxpeditions we have met all possible occurences which an amateur activation may endure in those countries. This was also the case this time. Therefore, read on: we have some story to tell.
A preliminary clarification is in order: speaking about "Congo" we must realize that there exist two such countries, i.e. the Republic of Congo, with Brazzaville as Capital city, and the Democratic Republic of Congo, whose Capital is Kinshasa. Both countries, and their inhabitants, are very sensitive about this issue.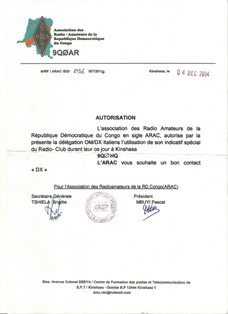 We began considering a Dxpedition to the Democratic Republic of Congo at the beginning of July 2014. We could collect over the internet only scanty information related to our intended destination, but at a point good luck stroke. Among the many email messages sent to the Ministry of Telecommunications in Kinshasa, to radioamateurs who had previously operated from Congo and to members of the ARAC (Association of the Radioamateurs of the Democratic Republic of Congo), a reply popped up. It was Cyprien (9Q1KS), who offered his help for obtaining authorizations and picking out a suitable location.
Cyprien is the coordinator of the STARS-IARU Programme (Support to Amateur Radio Service) in Central Africa, definitely the right person to rely upon. After considering different formats, we decided to organize our Dxpedition in the form of a "special event", augmenting our DX commitment with training sessions for the benefit of the local amateurs. As a consequence, we were most pleased and honored to receive from ARAC an official invitation to the Democratic Republic of Congo, with the purpose of providing their members with refresher courses and of underlining the keen interest of the worldwide amateur community for this country.
The ARAC headquarters could be a possible location, but we decided against this hypothesis. In spite of providing ample space in the premises of a Technical Institute, this room, placed in the central part of the city, offered limited facilities for antenna installation. In addition, since Kinshasa counts in excess of 13 million inhabitants, it was easy to predict a very high level of QRM from traffic and population density.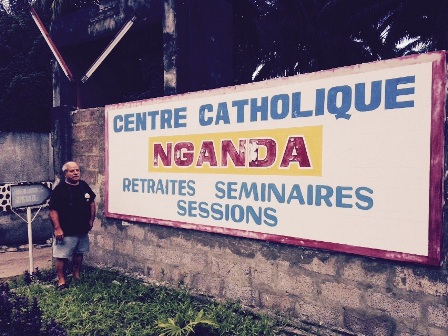 After discarding accommodations in hotels, requesting prohibitive fares (in excess of 300$/day) and devoid of adequate space for antennas, our friend Cyprien found a perfect solution. It was a cultural and spiritual center used for seminars and conventions, mainly of religious nature, with sleeping accommodations and a wide garden.
Last winter Cyprien was in Europe, to attend a meeting at the ITU (International Telecommunication Union) in Geneva. It was our best chance to meet him in person and to prepare the paperwork for the Dxpedition.
We had been forewarned that our call 9Q0HQ had already been used by other amateurs, but without ARRL credit for DXCC. Having this in mind, we had already delivered to ARRL all the documentation relevant to our case, receiving a positive reply under the stated operating conditions.
It was time to prepare our usual set of equipment, consisting in spiderbeam antennas for the higher bands, verticals for the lower ones, receiving antennas and our reliable 6m cubical. Italian-made coax by Messi & Paoloni, plus 3 Elecraft K3 tranceivers, their KPA500 amplifiers and a YAESU FT857 for 50MHz beacon complemented our basic setup. This year, we also had a new Italian-made solid-state amplifier, the 1.2 kW HLA1200 Atlantic, for a "field" test.
Among several possible dates for the operation, taking into account the various constraints of the Team members, we finally converged on departing on the 9th of March, with return to Milan on the 26th of the same month. Also in this case, as for our previous Dxpeditions to Benin and Ivory Coast, we got our visa from the respective Embassies in Vatican City, on the grounds of our double mission including humanitarian purposes. For further details we refer the reader to previous articles and our website. At this point everything was ready.
This time, Gino (IK2RZP) could not join us, while on the contrary Alfeo (I1HJT) could be part of the gang. As always, Silvano (I2YSB), Angelo (IK2CKR), Vinicio (IK2CIO), Marcello (IK2DIA) and Stefano (IK2HKT) took part in the adventure, including Mac (JA3USA) who joined us, as usual, for the last week of operations.
Again we chose to fly Turkish Airlines, given their reliability and efficiency in all their services.
The flight route was Milan to Istanbul, connecting then to Kinshasa.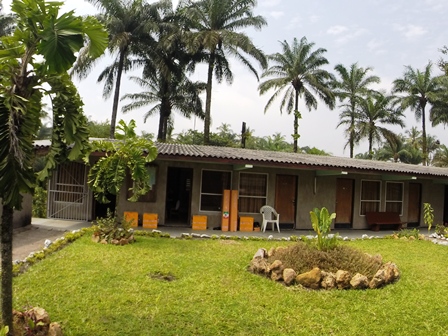 After takeoff in the morning from Milan Malpensa and uneventful flights, we landed in Kinshasa around 21 h local time. To our surprise, our friend Cyprien had prepared for us a top-level welcome. On disembarking we were met by an airport employee, who led us with special priority to the immigration office. Going through customs was smooth, even if it took a bit of time for checks on equipment and documents. After about one hour drive across the city, we reached the Nganda Center: we could not get prior information about it, nor we could find pictures of the premises, so we were somewhat uncertain about what was in store for us, but for the reassurances fo Cyprien. We found a perfect location for a Dxpedition: a fenced and secure park with ample spaces, clean and cozy rooms, friendly staff. On arrival we were greeted by Father Bavon, the manager, who acknowledged all our needs and requests with a smile.
After a few hours of rest, we woke up early and late morning the first station was already operational. Without internet connection, due to a fault in the local telephone exchange, Stefano (IK2HKT) started on SSB, but after a mere 20 minutes he came back wild-eyed, uttering garbled sounds "vinte menùc a ciamà a ot in des, quindes e inte ma al sa sent nisù e sente negot… mai socedit o laur del gener … che post del ciaet m'a catat fò ! ". In plain Italian (here English):"20 minutes spent calling in vain on 10, 15 and 20m….no replies whatsoever… we are in bad shape!". Nobody, but Vinicio (IK2CIO), could understand his words, spoken in strict Bergamo dialect, which raised our worry. As a consequence, without desponding, we concentrated our efforts on setting up antennas and postponed the beginning of operations to a later moment, with the CW station.
Angelo (IK2CKR) had the pleasure of making the first contact from 9Q0HQ with G8DX at 10:49 Z. Thanks to the "Reverse Beacon" spots, the CW station had strong pileups since the very beginning. Which proves over and again that few OMs actually turn the tuning knob of their tranceivers across the bands, while the great majority of them waits comfortably for the desired spot on their packet cluster.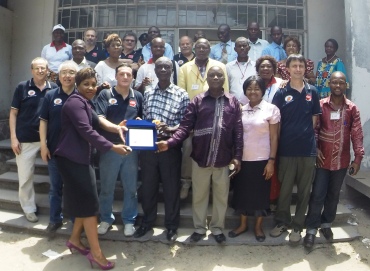 Later, after the internet connection was re-established and our real-time log was in operation, also the SSB station went on the air. The first QSO was with our all-time friend I2PJA, Tony, who finally managed to be first contact with us after ten years of attempts…congratulations!
Heavy pileups were the norm during the first week. We had some worries about RTTY since, for unknown reasons, we could not get JA stations in the log. We had decided to work RTTY only on the 15m band, the most productive one according to the propagation predictions worked out by Arturo (IK7JWY), our pilot station. Given this situation, we decided to break our plans and operate RTTY also on 20m, only for JA stations and in the morning via the long-path. We achieved about 70 QSOs on 20m, but already on the second day the propagation followed predictions and JA stations showed up also on 15m. As a consequence, all further RTTY QSOs were made on this band, offering everybody, big guns and little pistols, a chance to log 9Q on this mode. Our final log contains 3300 RTTY QSOs.
During the whole week, the first one, all QSO rates were considerable and we were looking forward to a major result overall…but in Africa anything can happen. In fact, during the second week we had a sizeable number of blackouts, caused both by violent thunderstorms and by maintenance work on the local electricity distribution system. Once again, under these conditions, we must thank the Messi & Paoloni firm for their AC/5 Plus/Airborne and AC7/Plus coax cables, which worked perfectly in spite of being immersed in backwater for two weeks. Really forefront products, of excellent quality!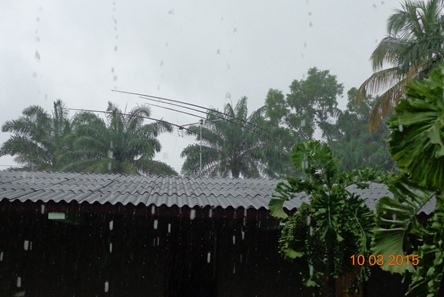 Finally, the emergency generator, overloaded by the whole Nganda Center, faced bravely the current demands for a while, then switching continuously into protection mode. This repetitive on/off alternation caused loss of concentration, annoyance and loss of precious time: we could only wait for the generator to cool down. Let us add the frequent internet interruptions, in spite of having purchased service from three different providers in an effort to guarantee a stable service for our online, real-time log (our continuing thanks to Giacomo IH9GPI, whom we woke up in the middle of the night because of a supposed problem which was finally identified as a false alarm!).
Beyond all this, in a relative humidity of 95% and an average temperature between 30 and 35 °C, the strongest solar flare ever recorded hits and knocks out the air conditioners. Adding that the alternating wet and dry soil shifts resonances by as much as 300 kHz and our working conditions are fully explained.
Mac (JA3USA), just arrived from Kinshasa at 21h local, grabs microphone and earphones and jumps straight into the game, offering Stefano (IK2HKT) and Marcello )IK2DIA) some well deserved rest.
A sore point is 6m, no reason to hide it: we were expecting much more, given the predictions of our 6m pilot station (Sergio, IK0FTA). This time the "magic band" displayed its magic once more, but in the negative sense. We saw spots of Europeans receiving countries next to ours with big signals; we did our best, but with limited satisfactions. Vinicio (IK2CIO) did not spare efforts, he even raised the antenna up to 12 m above ground, but in the end he had to give up: no way. As well known, we do set any target to ourselves. There are too many unknowns, both in a Dxpedition in general, and on the 6m band in particular. Anyway, we had some unspoken goals: 878 QSOs in total are a non-negligible result, but we were hoping for more….at least we were able to hand out a new band to some of the deserving.
Also the lower bands were somewhat disappointing. We mounted a two-element vertical for 80m, tried different antenna types for Rx and Tx on 160m, we realized on the spot a vertical for 160m with elevated radials, Alfeo (I1HJT) struggled until the last night trying all possibilities. We did our best, as usual.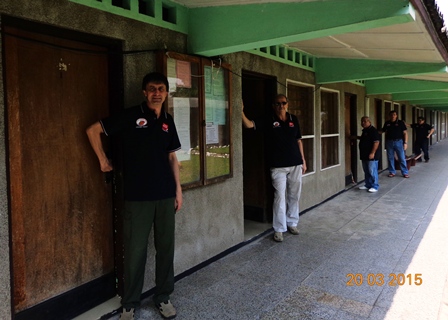 Even though we were using 500W, we felt that we were heard, but the city-generated noise, plus the atmospheric noise from the daily thunderstorms over Kinshasa, were overwhelming, thus making reception impossible.
Few difficult contacts on 160m, including anyway some JAs and Ws, almost 800 QSOs on 80m (mostly on CW) and 3800 QSOs on 40m, pushed the higher bands to very high rates. Constant pileups at all times of the day (mostly during the first week), with night openings to the West Coast with signals always above S9, JA stations via long-path in the morning on 15, 18 and 20m and just afterwards via short-path on 12 and 10m, Europeans day and night on all bands…between 10 and 20m, just appearing on any band raised immediately heavy pileups!
We had tense moments, mostly on SSB on European pilepus: we often had to QRT, the lack of discipline reached intolerable levels for the operators. Nevertheless we had a lot of fun! We achieved and improved our absolute records for total QSOs and for unique callsigns (more than 84 thousand contacts and 27 thousand uniques), which bears out once again that our approach is competitive and effective. Considering our overall statistics, comprehensive of all our Dxpeditions, we have reached a major goal: at the moment we have in our database 1,010,662 QSOs and 118,294 different callsigns. For us it is quite a success…and this is not the end of it!
There have been dupes, too many of them. During the last days we decided not to log these dupes, spending time with the correspondents in explaining the reasons of our choice. There were even irritating episodes, when some correspondents insisted to have the duplicated contact recorded in the log, thus restricting the chances of other stations to make a QSO, maybe with more limited means. We do not understand the reason for repeating a contact 2, 3 or even 4 times on the same band and mode! At any rate, as Father Bavon was repeating, "all is well what ends up well".
Our operations ended on the 25th at 13:24 like they started, with Angelo (IK2CKR) working on CW the last station, DB1BAN. After dismantling the antennas and packing all the equipment, we headed for the airport where we took off at 22h, arriving in Italy the following day, 26th, in the morning at 10:30 (but for Mac, who had to wait at Istanbul airport for 18 hours before boarding his flight to Japan!)
.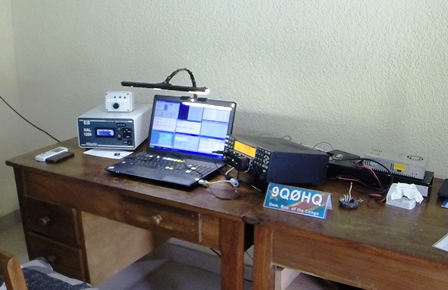 On the day after our arrival Silvano (I2YSB) was already busy with QSLing chores and uploading confirmations to LoTW. At the time of reading this article, many of you will have already received their 9Q0HQ QSL, while others will get it in a short time.
During this Dxpedition we had also some "official" moments. Thanks to the perfect organization by ARAC we had the honor of being received by the Secretary General of the Ministry of Telecommunications, Mrs. M.J. Masika Sikuli Kivu, who paid great attention to the motivations of our visit to Congo and hinting at a greater consideration to the Amateur Service in her country. The organization contemplated also a meeting ith the Minister, but unforeseen commitments forced him to decline. We then met all members of ARAC at their head office located in a school complex in the middle of the city. Very nice premises, albeit still poorly equipped in terms of radio equipment. During this latter visit we helped in fixing up their antennas (Tnx Vinicio!) and in making the station donated by IARU fully operational. We committed ourselves to improving this situation, and we are taking the first steps toward a collaboration with
ARAC with a view to get there a permanent working station, available to all members.
Before concluding these brief notes on our Dxpedition to the Democratic Republic of Congo, we wish to express our gratitude to Cyprien (9Q1KS), who made this Dxpedition possible, to ARAC for their logistic and organizational support, to Father Bavon of the Nganda Center of Kinshasa for his hospitality, to the OMs who support us with their donations, to the firms sponsoring our activities, to the ARI Sections and various Associations, to our pilot stations Arturo (IK7JWY) and Sergio (IK0FTA) together with Giacomo (IH9GPI) and, for once, also to our families encouraging us with patience and wisdom.
We remind the members of ARI Sections which support us, that our QSL cards are free of charge to them and that we do not need their cards. They will get their 9Q0HQ QSLs directly at their respective ARI Sections, once we receive from their Secretary a list of the callsigns who contacted us.
We heard rumors about criticism concerning our statistics. Our log is available to anyone wishing to make checks or statistical analyses on it, on request via email. It will make our working style in the IDT crystal clear. As a principle, we do not compete, neither wish to appear on annual statistics nor on the front page of important magazines. We just practice the ham spirit, with the passion of the first day when we turned on our first radio. Our only aim is to have fun and dispense fun.
Now, ahead to the next one, in November 2015: anybody willing to try and guess where?