9J2T - Zambia 2014: an amazing sequence of events!
After having been active in a number of African countries, we believed that our experience would let us face with confidence any possible difficulty at any stage of a DXpedition. We were wrong. This Zambia adventure posed a major challenge not only to our technical and organizational skills, but also to our emotional endurance. In fact, we had to overcome moments of total discouragement and resignation under a real storm of adversities.
Providing even a brief account of all the events that happened during those 18 days is now an opportunity to explain what may happen behind the simple "five nine" and the immediate upload of your QSO to an online log. In particular, what level of patience and perseverance is required at times to realize our common goal: a chance for all OMs to add a long-sought checkmark in the desired band-slot.
As we have repeatedly experienced, various problems and unexpected difficulties are common during a DXpedition, but this time we almost surely reached the perfect fulfillment of Murphy's Law. You may have the best equipment, you may have tested repeatedly the whole setup before departure and planned everything in minute detail –something will inevitably slip out of control. This account, for once, will not describe details of our stations or the analysis of our log, for which we refer the reader to our forum site www.hamradioweb.org . We wish to share with you our impressions and emotions by writing the backstage story of a DXpedition whose characters are:
I2YSB – Silvano JA3USA – Mac IK2DIA – Marcello IK2CKR – Angelo IK2CIO – Vinicio I1HJT – Alfeo IK2HKT – Stefano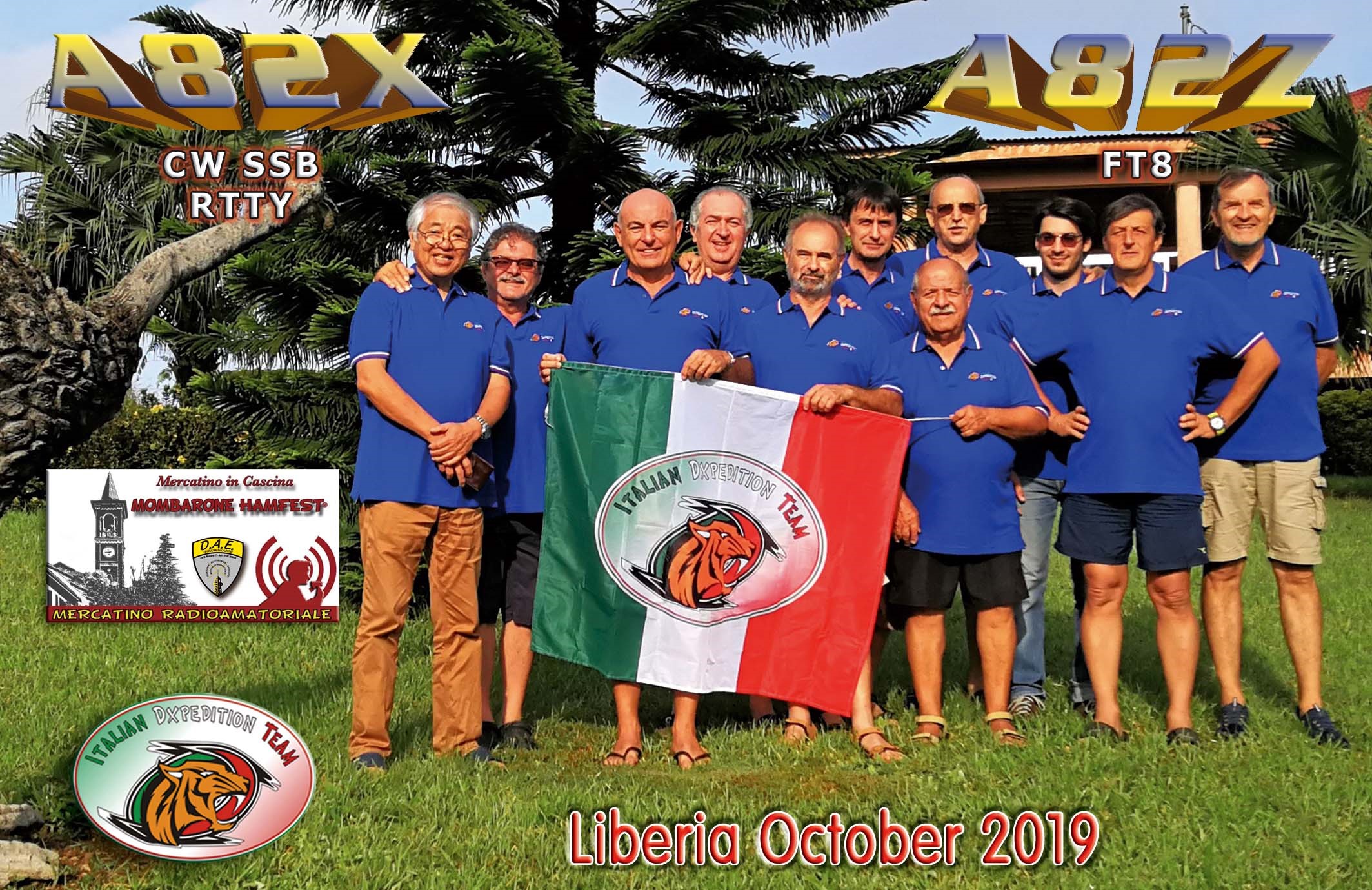 The story begins in the second half of last year, when Silvano (I2YSB) and Stefano (IK2HKT), in their continuing quest for additional countries suitable for a DXpedition, thanks to some cluster spots got in touch with 9J2BO.
Checks on the most wanted rankings and on the records of DXpeditions to Zambia in the last ten years indicated that this country could be quite interesting. We get in touch with 9J2BO, who kindly establishes a link with the licensing authority. After being invited to submit the necessary documentation by email, with the assurance that our licenses would be issued within 30 days, we understand however that something is fishy. Our experience tells us that for an African country this is tantamount to science fiction and sounds a discreet alarm bell.
The licenses actually arrive, but the first of a long series of setbacks strikes. In place of 9J2T we are issued 9J2M513, an aeronautical callsign with a power limit of 25W. After 8 years in Africa this does not seem a big issue; it rather lures us into thinking that obtaining the right license will be an easy business. In order not to lose track of the chain of mishaps let us call it Event n. 1.
With patience we explain that our request is for an amateur callsign, with a corresponding power limit of at least 500W. For the purpose of this limited request alone, as many as 42 email messages are exchanged.
At the end, the right license arrives and we begin our search for a suitable location for the DXpedition. Our final choice is the Manchinchi Bay Lodge, a resort placed on the tip of a north-looking peninsula on the Kariba lake, and in the end to be considered a "ham friendly" lodge. We shall meet there a very kind staff with a remarkable, helpful attitude, which allows us to recommend this venue for future operations from Zambia. We analyze the location on Google Earth, try to get information about electrical power and internet availability, without disregarding food quality, and we finally place our reservation for the period February 26 to March 17, 2014.
Time goes by swiftly. Completing our preparations, we set our rendezvous at the Milan Malpensa airport for the afternoon of the 27th, at 17h local. But Event n. 2 is lurking: Angelo, in charge of driving all our equipment and part of the team to the airport, gets stuck in a traffic jam and arrives one hour late. Imagine the anxiety (Silvano I2YSB is always early on these occasions), but in the end we manage to get through our check-in and to get all our equipment safely checked. It being our first time to fly Ethiopian Airlines, we had arranged in advance for authorization to ship electronic equipment. Having completed all procedures, we wait happily for takeoff.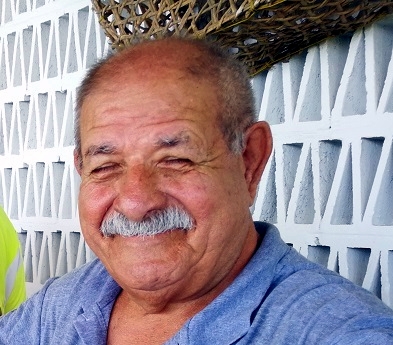 Our travel route envisages a stopover in Rome before reaching Addis Ababa, where a different flight will take us to Harare, the capital of Zimbabwe, and finally the last leg to Lusaka, the capital of Zambia.
Unknown to us and unexpected, Event n. 3 is drawing near: on the final approach to Fiumicino airport in Rome, a lightning bolt strikes our plane with a deafening bang. Panic on board, but a professional pilot completes a perfect landing. Obviously, a complete check of the plane is mandatory and we then take off with considerable delay for Addis Ababa, where the stopover should last one hour. Here we encounter Event n. 4. One of the two pilots of the new crew is missing, and waiting for a replacement adds another 2-1/2 hours to our already stretched schedule. At last, during the flight we begin planning the operations ahead for the late afternoon, without taking into account the impending Event n. 5.
At the arrival in Harare the ground personnel bungle the baggage transfer, with the result that luggage pieces and passenger counts do not match. All passengers get counted again and again by different employees, each time with differing results. It is then decided to proceed with a nominal roll call (ah, the good old times at school!), which finally allows departure, but with yet another one-hour delay.
We finally arrive in Lusaka with such an accumulated delay as to make us fear that we shall not be able to begin operations in the late afternoon of the 28th. In spite of this, we are still optimistic, unaware of what is in store for us. After passing through immigration control, we run into a zealous and meticulous customs officer who inquires about our equipment. And Event n. 6 duly materializes. Confident in our documentation, we show our licenses and related payments, but are adamantly requested to file a temporary import request for our equipment. We try to explain the situation in all possible ways, but to no avail. This procedure requires the assistance of a customs forwarder and of the official in charge of customs, who had left half an hour before. As a consequence of this "missed rendezvous," all the equipment is impounded by Customs until the following day.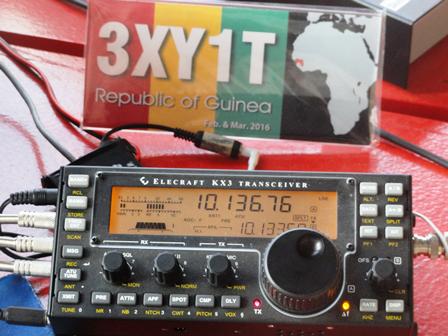 Sad, worried and a bit discouraged we exit the airport and meet our friend Mac (JA3USA), who tries to calm us with his known wisdom. For transportation, the resort had offered a minibus for us and a pickup for our equipment. For obvious reasons we do not have the latter, but we get charged anyway –$300 down the drain. We must travel 180 km of highway, about 2-1/2hours. But after 2 hours of riding through luxuriant vegetation, with only a few scattered huts and zigzagging to dodge goats and monkeys, we question the driver, only to discover that we are only halfway there. The real travel time is more like 4 hours!
We arrive at Manchinchi Bay at night, after driving the last half hour downhill; Zambia is a vast plateau and our location is in the lowest part of it. We begin worrying about having chosen the worst possible place for radio activation, i.e. the center of a deep funnel. Without showing it, in the darkness of the African night, Stefano and Silvano feel responsible for the choice, possibly the worst in many years. We have time for just a quick look around before going to dinner without comment, hoping for a better day tomorrow.
At 5 in the morning Stefano, Silvano and Alfeo leave for Lusaka, where for the unbelievable amount of $500, later reduced to $250, the paperwork is completed after more than 4 hours, only to then be rejected by Customs for bureaucratic trivial objections. After reformulating the request and further waiting, just before 13h our equipment is on its way to our base. Great angst, since the office closing time is 13h sharp and, it being a Sunday, everything would have been postponed till the following Monday. For once we are lucky...but Event n. 7 is already looming. It's the last day of the month –pay day – and an unimaginable number of people and vehicles is choking the road between the airport and the city into a state of paralysis. It takes us one full hour to drive the 2 km between the airport and the highway (so to speak). In the meantime, the rest of the team at the resort is preparing internet connections and selecting the best positions for our antennas.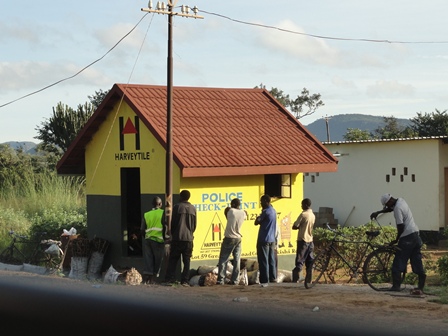 On arrival, around 18h, we begin immediately to prepare the setups and successfully make it on the air at 19h with the first station and 20h with the second one. At the outset it becomes clear that our apprehensions about the possible poor performance of our location were unfounded. We are surprised and gratified by extremely strong signals from Europe, Japan and the Americas, probably as a beneficial effect of the nearby lake. After a quick dinner we attack our operations, benefiting also from the presence of Mac who will stay only one week with us.
End of our troubles? Not so: Event n. 8 strikes. After a few minutes the line voltage drops from 240V to 140V. We feel relaxed, since a brand new 20kW generator is available for these occurrences, but for a minor detail: we discover that it does not work. We are told that it is a temporary difficulty, and an hour later the line voltage in fact returns to normal. Sigh of relief.
In the middle of the night, however, we get
Event n. 9: internet connection down, halting both log uploads and packet cluster operation.
On the following morning (Sunday) we call on the local zone provider who (for a lavish payment) fixes the problem. The poor connection bandwidth, however, prevents us from operating the video streaming on either Livestream or Ustream. Still and all, we prefer a slow but reliable connection to a fast but possibly unstable connection.
On the second day everybody is hard at work, and at the end of the day all stations are ready and active. At this point we are gratified by an exceptional performance on the high bands, in spite of a meager propagation on the lower ones. We try all possible solutions for improving reception on the top band, as well as on 40m and 80m. We install a Beverage, a DHDL, a Diamond loop and, in order to improve transmission on 80m, even a parasitic element for the 80m vertical. All with minimal results.
It turns out that the best receiving antenna is the Diamond loop. At his point we cannot evade Event n. 10: during one of the few nights in which we could hear at least a few signals, a branch of a nearby tree drops on the horizontal support of the loop, splitting it in the middle. It is late at night, and no repair work is possible until the following morning.
Will Murphy's attack subside? Read on....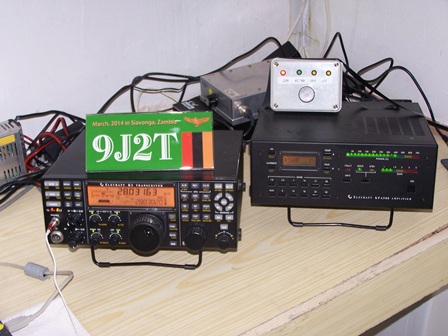 On the morning of the fourth day, while turning the Spiderbeam of the CW station a bit too fast because of a nearby crocodile, a guy wire snaps and the antenna collapses. Where should it crash, in your opinion? You guessed right, on a guy wire of the 40/80 vertical! Event n. 11 confirmed, with both antennas on the ground and broken poles. We do our best to fix everything and relocate the antennas away from the place that the crocodile had elected for his morning domicile.
We start RTTY operations and, all of a sudden, the linear quits. Blown fuse and, of course, the spare fuse is not to be found. At least the tinfoil does its duty, and Event n. 11 gets archived.
We have chosen for our stations a multi-use configuration, such that each one can operate SSB, CW and RTTY. Since on 20m we have openings only during the morning and late in the evening, in an attempt to maximize our performance we set up the small KX3 by Elecraft not only for RTTY, but also for SSB. Sadly, in spite of all checks made at home the microphone refuses to work. Luckily, or wisely, we brought a spare one, and Event n. 13 seems to create only a minor half-hour delay for soldering the proper connectors. At the same time, however, the computer allocated to the RTTY station gives up, requiring us to reformat the disk and reinstall all software. At least the entire log is safe on our website server in Italy, including a backup, so that we can work somewhat relaxed.
At the end we test the internet connection which, though slow, should allow a final check of the installation. It's not so simple, because of Event n. 14: the deletion from the QRZ.com site of our QSL info page. In the middle of the night we wake up our software specialist Giacomo (IH9GPI), to discover, after a few hours, that a maintenance software used by the QRZ site managers erased all our data. Giacomo restores proper operation and after a few hour all is back to normal. This shows how important it is to have an expert in Italy with access to our system for urgent interventions.
What a DXpedition! Is there something else in store for us?
During the first week, the SSB station displayed a strong background noise, muting stations arriving with weak signals. We ascribe this to a nearby power line and get on. It is only during a break that careful checks find the culprit: one of the two power supplies feeding the antenna switches through the coax is generating the noise. We replace the remote electronic switch with an old and reliable manual switch, and Event n. 15 is successfully dealt with.
A week has gone by, and we must say goodbye to Mac (JA3USA) who flies back to Japan (from where he will work us on 10 and 40m). He then moves to his home in Oregon, where he finds that the chill and frost had burst the water piping, flooding the house. This event cannot be ascribed to the DXpedition, but we think it should be mentioned.
Without the precious contribution of Mac, and given that SSB is more requested than CW, we shift the CW operators to SSB.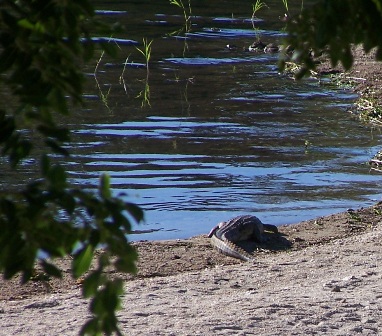 After about 10 days of operation a real saga of DUPE CONTACTs begins. Trying to urge the community to avoid duplicate QSOs on the same band and mode, we decide to broadcast spots on the cluster recommending "no dupe qso." At this point Event n. 17 shows up, for once an amusing event. In a message, UT6UA kindly explains to us that "In Polish and Ukrainian languages 'dupe' means 'ass'. Maybe it is better to use 'duplicate'." You never stop learning!
On the third weekend of our DXpedition we realize that we had not taken into account the planned contests. The Russian contest is the origin of many "double" QSOs, which makes us more or less avoid the contest bands but for some checklog contacts, in which we give everybody a 001 report in order to offer an interesting multiplier. We had done the same in the SSB ARRL contest of the previous week, with brief operations during openings to the USA to the benefit of the contesters. In these situations we definitely realize that the low bands did not really work. We spend considerable time in listening on 80 and 160m, knowing that the big stations are active during such contests. The signals are nonexistent!
The numbers of this DXpedition speak for themselves, and the band slots display clearly propagation conditions. We logged almost 20k QSOs on 10m, and more than 10k QSOs for each of the other high bands, with the exception of 17m. We can assure that we doggedly persisted every night on the low bands, but without success.
We had great satisfaction from the 6m band, with more than 1800 QSOs in the log. On this band we had super signals, well above S9 every evening. You can hear some recordings on YouTube. At the end, the total exceeds 71k QSOs, but – most importantly – a number of unique calls extremely close to 25k.
Given the number of Events that we suffered, we can be extremely happy. But the story is not over yet.
For our return trip we are required to close the temporary import permit which was established on our arrival. Everything proceeds smoothly up to Event n. 17, namely a 2h delay of our flight. It would have been possible to round our QSO count to 72k during the night and disassemble early in the morning, rather that being ready at 5 o'clock for transportation to the airport. Nevertheless, we remain entirely satisfied or our results.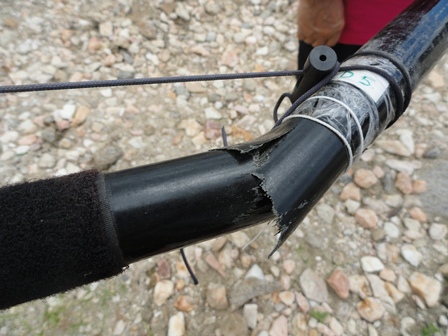 Besides the delay, the return trip unfolds without problems. We land in Malpensa at 7 in the morning, Tuesday, March 18, and we believe that we have finally come to a close. Really? No. Mysteriously, on arrival the tubes containing our antenna poles are mistaken for arms cases, which gives rise to Event n.18. This tragicomic saga comes to a real close after a half-hour inspection by the airport police.
Now it is really over.
We are on our way to our homes. We know that we did our best, even if some will complain for not having worked us on a given band, even if we may be criticized for our decision to insist on "no dupe" (sorry, "no double"), and even if some others swear not to contact us again because we "don't know how to operate."
We have invested time, passion and money in our activations and we are convinced, as shown by the numbers, that many OMs appreciate our commitment and our Ham spirit. We logged a large number of QRP stations, which we attended with particular carefulness. We are aware of the sacrifice and exhausting wait for their "magic moment." We logged /P stations, as well as a mysterious French /T station, which turned out to be /Tractor: a licensed farmer who managed to work us while plowing his fields!
We thank our pilot stations, IK7JWY Arturo and IK0FTA Sergio, who provided us with essential help, our brotherly friend IH9GPI Giacomo, our sponsors, the ARI branches, Associations and individual hams who consistently support us in our wanderings, and whom we trust will support us also in the future.
We shall not stop, and we are already working on our next destination! Thank you all!